Our Packaging
Our packaging ethos centres on re-use, recycle and refill – replacing virgin materials, contributing to the circular economy and reducing waste/ landfill.
Finding the best packaging solution
Before launching land&water in 2020, we dedicated two years of intensive research and development to choose a packaging solution that felt good for the environment and good for our brand. We're really proud to have been one of the first onto the market with this solution.
And while this in-depth process has informed the decisions that have got us this far, it's a never-ending journey, as technology and society evolve, and new options emerge.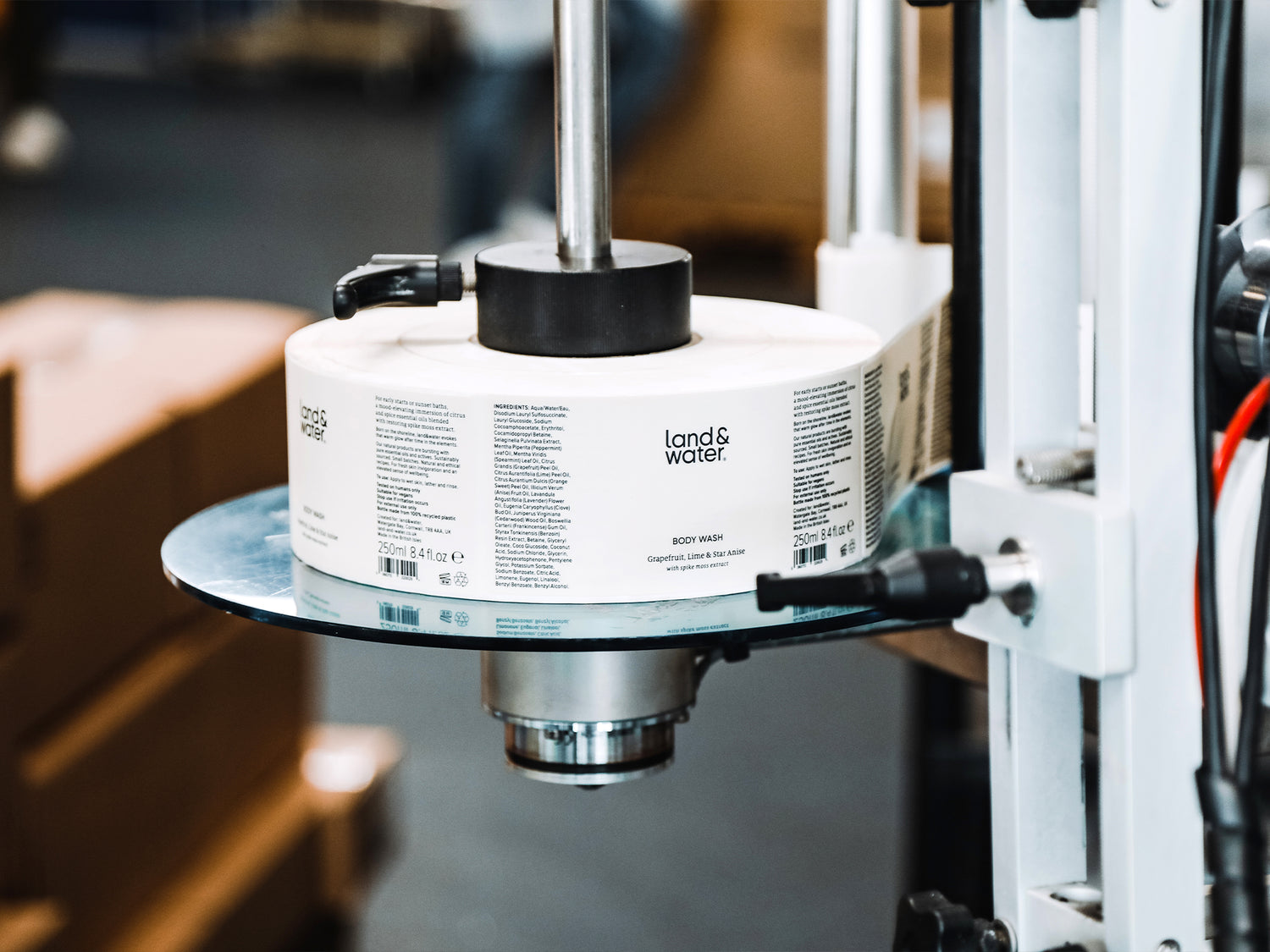 Where we are at
bottles, jars and outer packaging
We make our land&water bottles in Norfolk using 100% post-consumer recycled plastic (which comes from prevented ocean plastic).
For safety reasons, some of our products come in glass (such as our reed diffuser) – which is widely recycled and endlessly reusable.
We've minimised outer packaging wherever possible – for example, our candle is self-contained within a jar and lid (no need for an outer box). But what card packaging and labels we do use (for example, in the gift sets and diffuser packs), are made from 100% FSC-certified paper stocks.
Where we are at
refill, reuse, recycle
To make our products even kinder to the planet (and your purse), we launched our bumper 5L refill bottles nearly two years ago and are also working on 1L refills. Our diffusers now also have a refill option, too.
All our packaging is 100% recyclable, with one exception – our pump. (When we launched land&water there was only a basic choice of recyclable pumps on the market. Happily, this has changed and we're now sourcing and testing a new pump ready for when our current stocks are used up.)
PLASTIC? GLASS? ALUMINIUM?
For our seven products that come in plastic bottles (hand wash, hand lotion, alcohol hand gel, body wash, body lotion, shampoo and conditioner), safety reasons meant we had to choose plastic or aluminium over glass. Bathrooms typically have hard surfaces and smashed glass is obviously no good. What's more, the energy needed to manufacture and transport glass is much higher than that of recycled plastic.
Research told us that customers like to see the contents of the bottles, and know how much is left. So transparent recycled plastic was preferable to opaque aluminium.
WHY NOT BIOPLASTIC?
Initially, we wanted to use biopolymer made from sugarcane for our plastic bottles; it's an interesting option, described as renewable 'plant-based plastic', and uses ethanol extracted from sugarcane.
While this is a renewable source and captures carbon in growing the plants, the environmental impact of intensive farming processes is damaging – pesticides, herbicides, fertilisers and a significant amount of water are required (often in parts of the world where water scarcity is a big issue). It also casts doubt over the use of Brazilian land and may be encouraging land clearance for crops, threatening natural ecosystems and wildlife habitats.
What's next
There are always arguments for and against, and 100% PCR feels right for land&water at this time. We continue to follow keenly the evolution of differing options, including plant-based plastics and packaging-free products. 
As we grow in reach with more hospitality partners all over the British Isles, we're playing our part in the transition from single-use toiletries to refills.