Sustainability
As the spark that lit the land&water fire – shaping our philosophy, product concept and very existence – nature is what we hold most dear.
Tread Lightly
From the oceans, rivers and lakes that energise us; to quiet forests, clean air and buzzing hedgerows that lift our spirits, we're committed to treading as lightly as possible on the natural world that has so inspired us.
We launched land&water in 2020 with two key environmental principles:
To create natural products using only ethical and sustainable ingredients
To push the boundaries and find the best packaging solution possible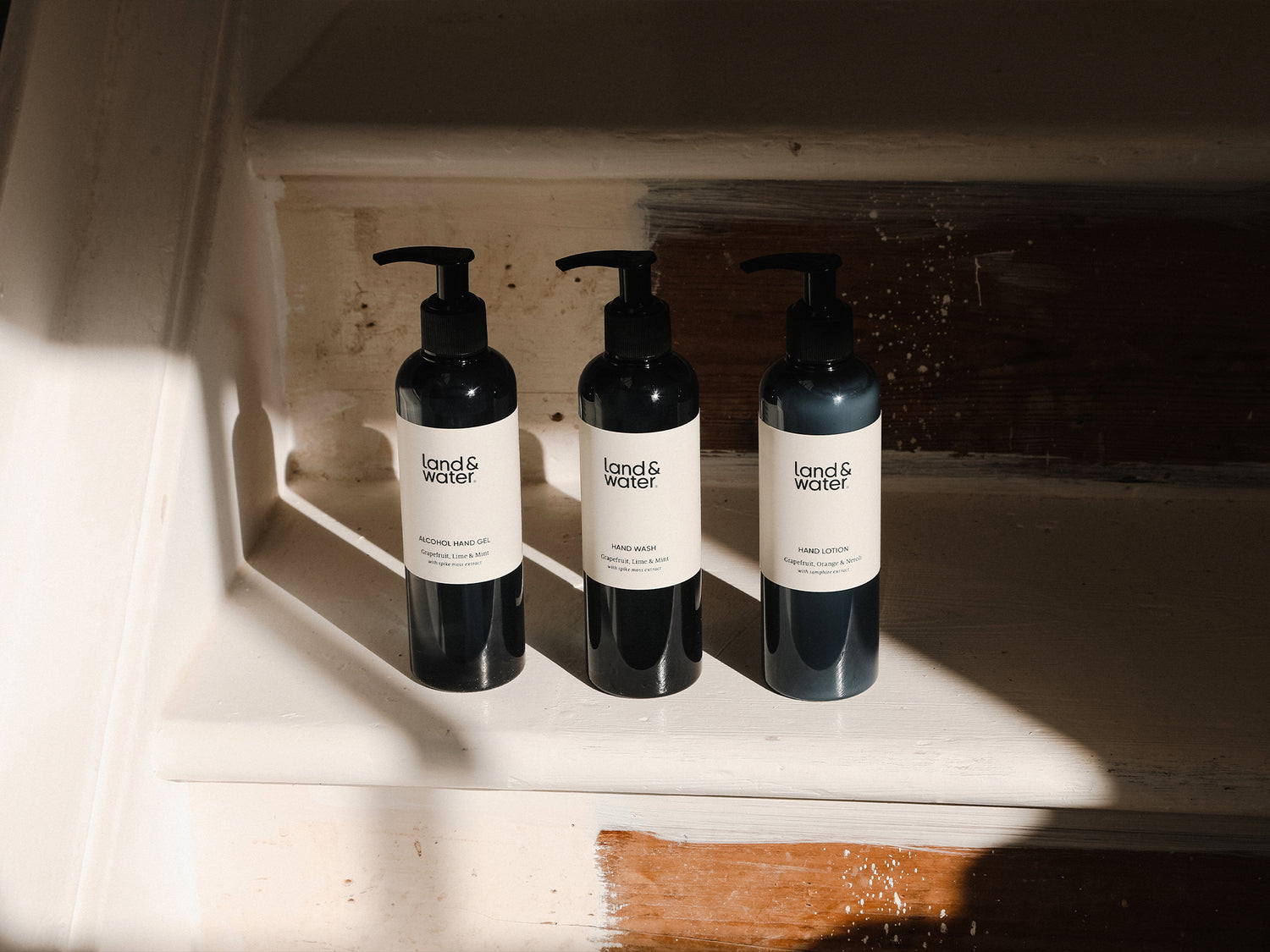 Ethical and Sustainable
land&water has a small batch philosophy, built on craftsmanship, chemistry and commitment. Each product's development is rigorous, each ingredient is sustainably sourced, and each recipe is ethical and natural.
We have invested in sustainable practices from day one, selecting partners and suppliers whose principles chime with our own, and giving painstaking consideration to our ingredients and manufacturing processes.
In a nutshell
Manufacturers selected for quality, ethos and environmental credentials
Ethically sourced ingredients, 100% cruelty-free
Only natural, botanical materials in all our skin formulations – better for the planet, and better for you
High quality essential oils used sensitively and in meaningful quantities
Our technicians are all ex-chefs, who we've sponsored through biochemistry degrees
The full collection is suitable for vegans
All products made in the British Isles
Our factory runs on a bio-fuel system
90% of our packaging is made in the British Isles, including our 100% post-consumer recycled bottles (from prevented ocean plastic). 8% is made in Europe and 2% in Asia.
Candles made at a wind-powered farm in Cornwall
Becoming a B Corp
We want to use our business as a force for good, both environmentally and socially. That's why we're currently going through a rigorous assessment to become B Corp certified.
B Corps balance profit with people and planet – reaching the highest environmental and social standards. Far from a tick-box exercise, becoming a B Corp will fundamentally change the way we do business – and we'll be legally required to report on our impact every year.